On 18 January 1999, a severe storm came through the Shenandoah mountains, knocking down many trees. One of those trees was immediately adjacent to Cabin 2's kitchen door. The tree snapped off about 12 feet off the ground and toppled over directly onto the center of Cabin 2. On the ground, the 100-foot tree reaches almost to Cabin 3. Bonnie Braswell was the first Rapidan Camps member to arrive on the scene, and took these photos.
The holes punched through the roof were covered with tarps nailed on by Tony Allen and Bonnie Braswell. The next weekend, more substantial patches were installed by Tony Allen and the roofing crew that's had re-shingled the roof in 1998. Much more work remains, however, to restore the cabin to its condition before the tree fell.
These photos are copyrighted by Bonni Braswell and Tom Jones, and may not be used any further than routine WorldWide Web browsing without permission.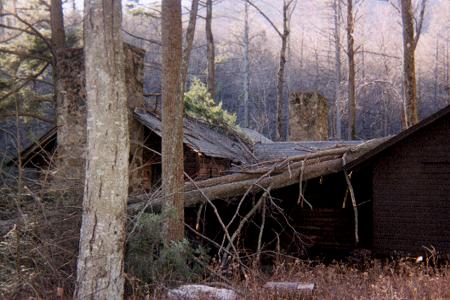 The tree fell across the central section of Cabin 2--from the lodge (on the left) where it broke off the portions of the roof to the kitchen (on the right). This photo was taken on the downstream side of the cabin.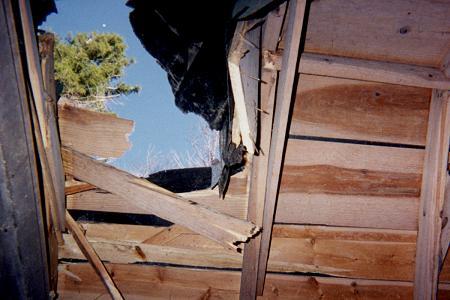 A branch of the tree punched a hole through the ceiling of the hallway between the lodge and kitchen. This unintended skylight has since been patched.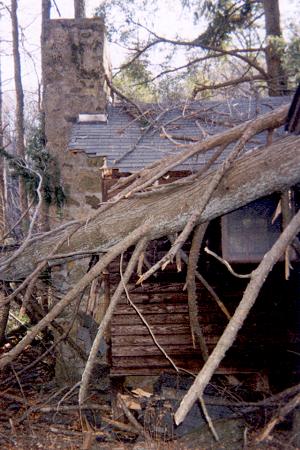 Fortunately, the tree trunk missed--just barely--one of the chimneys in the lodge, although it did break off the corner of the roof. Repairing the chimney would have considerably increased repair costs. This photo was taken from next to the kitchen facing the river.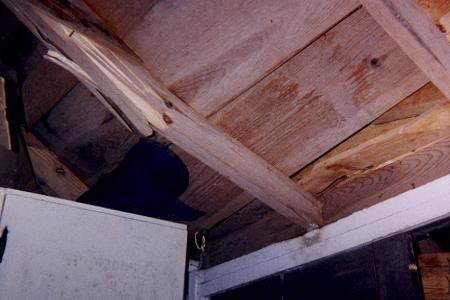 The tree damaged the cabin even where it didn't break through the roof. Its impact bent and broke rafters and joists, including this one in the kitchen just above the door to the hallway.